INNOKIN POD STARTER SCEPTER KIT
Innokin is back in force and presents its latest  with an integrated battery of 1400 mah you can vape at a maximum power of 20 Watts and with a tank with an autonomy of 3 ml in e-liquid,and 2ml TPD
Innokin design  side   wanted a discreet but elegant pod with sober colors, you can also see the name of your Scepter pod inscribed on the side of the latter.
With its dimensions of 106.8 mm x 29 mm x 18 mm it will fit in your pocket, your bag and will remain discreet in your hand to enjoy it all day long.
Innokin   does everything in its power to limit plastic waste as much as possible while meeting the demands of its customers as well as possible. The packaging is now eco-responsible and any non-recyclable over-packaging is removed.
Your Scepter pod   is equipped with a white luminous LED which will light up when you insert your cartridge in order to verify the correct connection of the latter.
The battery of your Pod will be 1400 mAh for a maximum power of 20 Watts, a bright LED will keep you informed of your battery level, for a carefree vape.
Boost Mode
To activate Boost mode! Switch off the  scepter  and keep the button pressed, the LED will change from normal mode (green) to boost mode (purple). Boost mode creates more heat and steam.
The scepter cartridges   are easy to refill and the coils are easy to replace.
Just turn the base below the pod and replace the resistance.
Reusing the pod and replacing the resistance saves money and reduces plastic waste .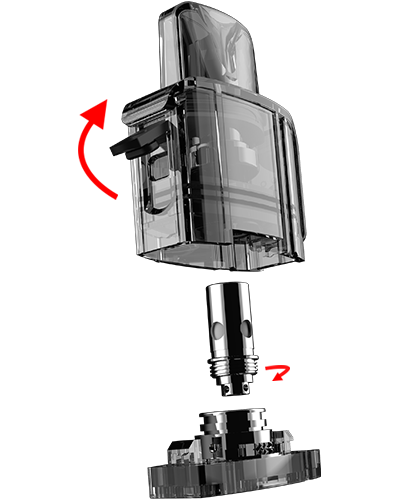 Content:
1 Scepter Mod
1 Scepter Pod
1 Scepter Coil  (1.2 ohm) pre-installed
1 Scepter Coil (0.5 ohm)
1 Micro USB cable
1 Getting started guide
1 Warning booklet
TECHNICAL SHEET
| | |
| --- | --- |
| POWER | 20 W |
| CAPACITY | 1400 MAH |
| TANK CAPACITY | 3 ML |
INNOKIN POD STARTER SCEPTER KIT